TICKETLESS PARKING AT THE VILLAGE
The Ticketless Parking system is installed at Toowong Village.
By incorporating our existing parking guidance technology and a Ticketless Parking system, it will be quicker and easier for customers to locate a parking space.   Vehicles are not required to stop as tickets are not issued.  Therefore, customers and Toowong Village Retail & Tower staff will not receive a ticket upon entry.
HOW IT WORKS:
With no entry boom gates, customers can drive straight into the carpark.
When leaving the centre, customers who have spent less than two (2) hours in centre can proceed straight to the carpark exit. The parking system recognises licence plate details at each exit and the boom gate opens automatically.  There will be no parking charge.
Customers who have parked for more than two (2) hours can pay in one of three ways:

At one of the six (6) automatic pay stations located at nominated locations around the centre including certain entries and the carpark;
By registering online to authorise their parking fee to be automatically deduced from their card.  REGISTER HERE. 
At carpark exit barriers by inserting their credit card or paywave.
WHY REGISTER:
Drive in and out without visiting a pay station;
Save time;
HOW TO REGISTER:
Customers and Toowong Village Retail & Tower staff can CLICK HERE to register via the online portal.  Once registered, the person will receive an email confirmation advising the registration has been accepted.
PLEASE NOTE:  the customer password will need to be changed when you next login.
Toowong Village keeps all personal details secure and does not disclose any personal contact information provided on this form for use by a third party, in compliance with the Privacy Act 1988.  For further information please review our Privacy Policy.
PARKING RATES:
On weekdays, the first two (2) hours are FREE, as well as any parking for customers entering after 6pm.  
You will also receive an ADDITIONAL hour free for every $20 you spend at any Village retailer, until 6pm.*   Refer to the Concierge Desk in Basement 1 for validation and details.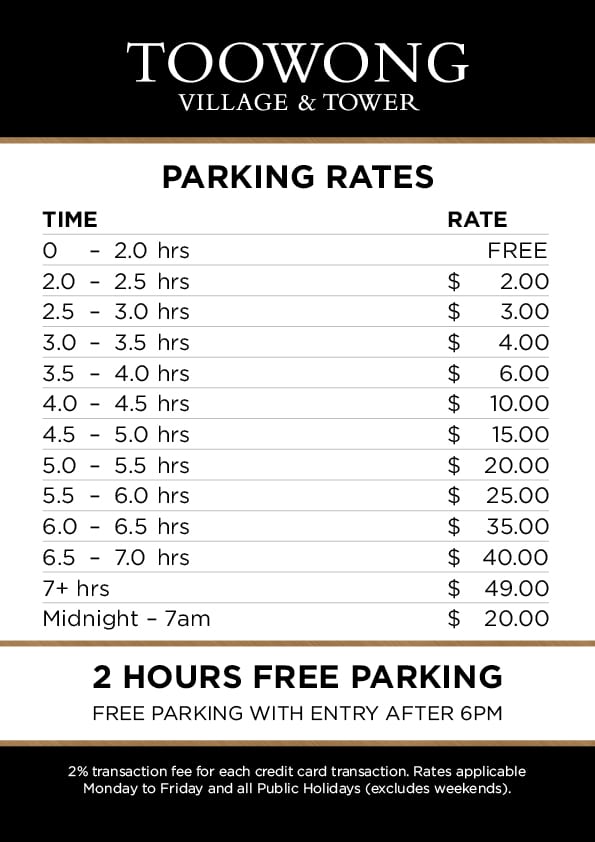 *Payments via credit card will incur a 2% credit card transaction fee per transaction.
Payments can be made by cash or credit card at any of the pay stations or by credit card only at the exit.
Customers will be entitled to two (2) hours FREE parking upon first entry into the car park.   When returning to the car park on the same day, customers will receive an additional two (2) hours free parking if re-entry is more than 30 minutes after the previous carpark exit.
Motorcycle parking is FREE.
WEEKEND PARKING:
Centre parking is FREE* on Saturdays and Sundays.  No validation required at the Concierge Desk in Basement 1.  *t&cs apply.
FREE PARKING AFTER 6PM:
Enter after 6pm and exit before 12 midnight on weekdays.
DISABLED PARKING:
Disabled parking is free for authorised disabled parking permit holders.  Customers with a disabled parking permit can validate their parking by visiting the Carpark Management Office, Gallery level, near Daisy's Florist.  This only needs to be validated once.
DIRECTIONS:
Toowong Village has two main car parks – both can be accessed by Sherwood Road and Lissner Street.
TERMS & CONDITIONS:
Full conditions of entry are displayed at the carpark entry – Sherwood Road and Lissner Street.  Refer to Terms and conditions.
FREQUENTLY ASKED QUESTIONS:
For more information refer to our FAQs.