REBUILD WITH THEM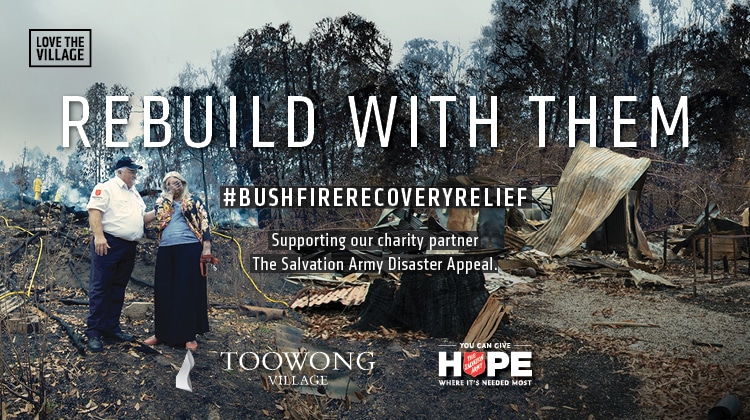 The ongoing bushfire emergency that has ravaged much of Australia is a true national disaster.
We acknowledge and have immense gratitude for the relief and recovery efforts of the firefighters, emergency personnel and wildlife warriors who have volunteered to protect these communities. Toowong Village have partnered with The Salvation Army to assist those affected to recover and rebuild their homes and lives.
The Salvation Army recognises there is no quick fix after a disaster.  It takes time for individuals and communities to heal.  The Salvation Army will provide financial and material support, advice and assistance via the Salvation Army Emergency Service (SAES) teams.
Your generous donation means they can help fire affected communities make a full recovery.
HOW YOU CAN SUPPORT THE SALVATION ARMY DISASTER APPEAL:
Fundraising point in centre:  The Salvation Army "Tap to Donate" machine is located at the Concierge Desk, Basement 1 during Concierge Desk hours (Monday to Friday, 9am to 6pm).
We thank you for any support you can give … every cent counts!