TRAVELATOR UPGRADES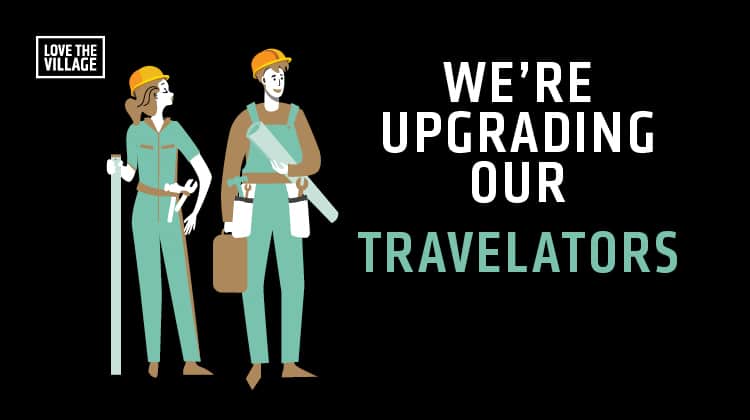 We will commence an upgrade of the four travelators that move customers from the Basement carparks (Basement 1 & 2) to Ground level from Tuesday 16th February.
The travelators are the original equipment from when the shopping centre opened in 1986 and are now at the end of their lifecycle.  This equipment is being replaced with four NEW travelators.
During this time, access from Basement 1 and Basement 2 to Ground level will be via the Tower, Observation and Services Lifts, which will be well signed.  For simpler access to the Village, we encourage you to park in the multi-deck carpark as access to the centre will remain unchanged.
At all times during the upgrade, customers will be able to use the travelators travelling down from Ground level to Basement 1 and Basement 2.
Concierge services and weekday parking validations is available as normal from a NEW temporary location on Ground level (near Fruity Capers).   (The Concierge Desk in Basement will be closed during the upgrade).
CLICK HERE for further details about the Travelator upgrade works program and FAQs.
Regular updates will be available on our website, emails and the centre's social media channels – Facebook & Instagram.
We thank you for your patience during the programmed works to make Toowong Village an even better shopping destination for our Village community.
Page updated: 12 February 2021.