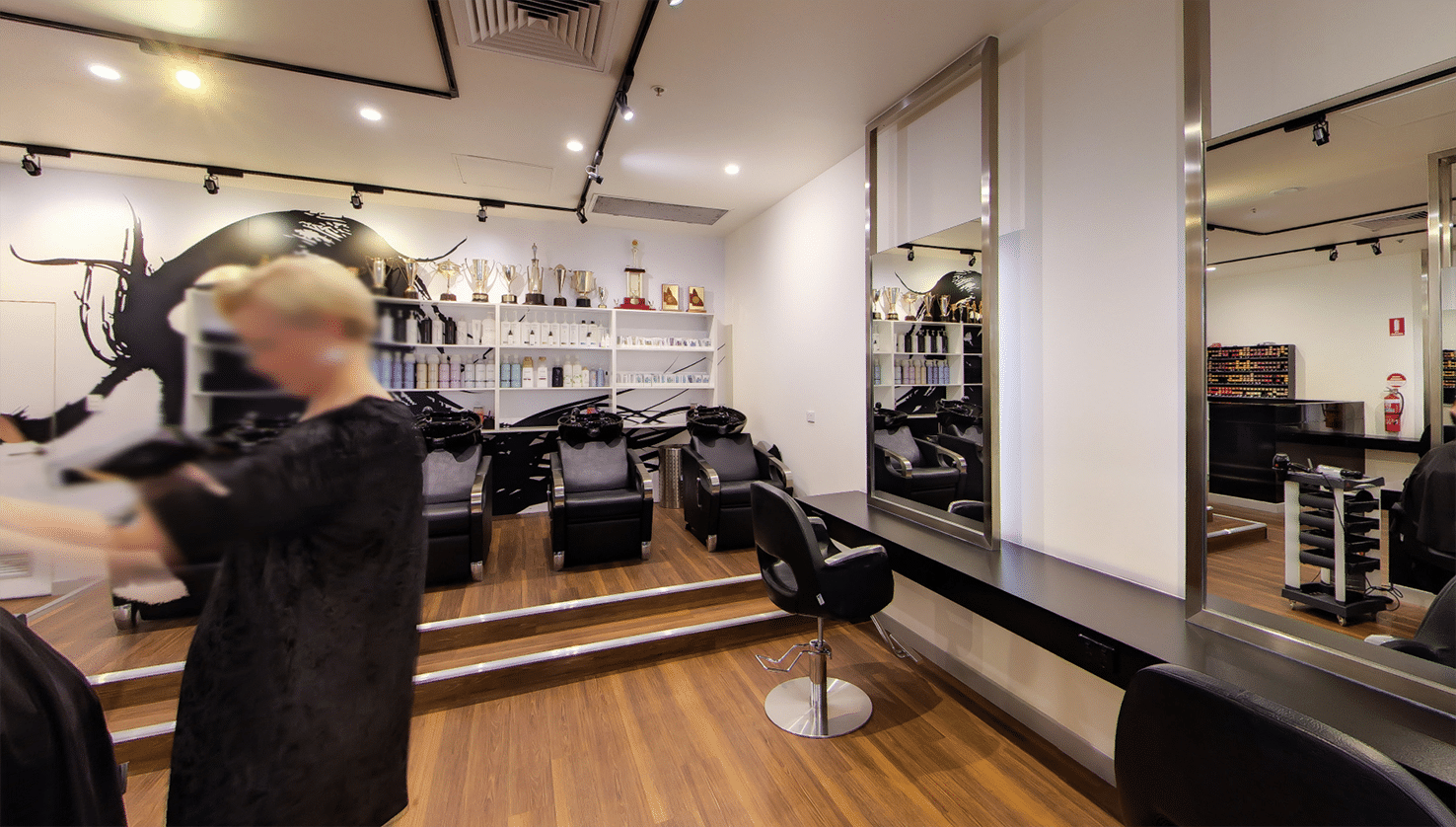 I think I have a pretty straightforward haircut – it's above the shoulders (which wasn't really the plan this year but more on that later), dead straight and all one length. Sounds simple, right?
I've come to realise this kind of 'simple' haircut is really quite precise and while I've never been one to skimp too much on a haircut, I've completely learnt my lesson on hurrying the process recently and am now, more than ever before, a firm believer in going to the best for a great cut. It's so worth it.
I have now had two haircuts by Anna at Stelios Papas, Toowong Village and not to be dramatic but at 38 years years old, I've had a hair breakthrough. You see, I've always struggled to manage my hair which is fine but there's a lot of it. It's straight, which often means limp, but it kind of puffs at the same time. Of course it doesn't help that I now have a toddler and don't want to spend more than 5 minutes thinking about/doing my hair in any 24-hour period.
Before I get into the specifics of what I love about Anna's cuts I'll share a little background on what brought me to her salon chair. It was a cool winter's afternoon and I decided I had a rare couple of hours to spare so I'd phone a salon near home that was convenient and I'd been to a couple of times in the past with mixed results. They could fit me in, which was great, I'd run in, get a quick cut (because my hair is short and straight and easy) and be on my way to an event in the evening a couple of hours later. No fuss.
Long story short I'd asked for a long bob (basically a centimetre or two off what I was sporting at the time), a trim of the fringe and some of the weight taken out underneath. What I left with was a disaster of an unevenly-layered chop that looked like I'd had a crack at it myself but failed miserably. It was me that was miserable. I was so keen to grow my hair past my shoulders this year, I could tie it back, I could do more with it, it was going to be great. Now I was left with no option that to run away and never look back, but worse still I had to live with the terrible haircut through the next few days, including the next Saturday which just happened to see me on stage and in front of the camera as part of the Toowong Village summer workshop event. Not ideal.
Now I don't take myself too seriously so I'm not going to say the bad haircut was devastating but it was the worst haircut I've ever had and I did kick myself for just rushing a hair appointment with a stylist I had no relationship or experience with because I've just been too busy to do anything else.
Enter Anna. I booked in at Stelios Papas at Toowong Village the day of the workshops, for the following Tuesday I think it was. It was as soon as I could make time. We had a bit of a lengthy conversation about what was so wrong about the current cut (although I didn't really have to point that out…), what I liked and didn't like, and what might work for me.
Anna was attentive, she told me exactly what she'd do to fix it, and that I'd have to go short to even all the layers out (I realised I couldn't very well stick it back on despite my dream of longer hair). She then spent a good deal of time cutting, then drying, then perfecting and the results are shorter hair, yes, but I love the cut and it's convinced me to stay short-haired for a time now.
The cut cost slightly more than the other close-to-home salon I'd tried and failed with a few months ago, but I now fully appreciate the value in experience and won't go anywhere else.
What I have loved about the way Anna cuts my hair is that she's taken into consideration the length on both sides of the front and cut it so that it doesn't matter if I wear it out and over my ears, centre part or side part, there won't be a longer piece that hangs down past the rest, the line will be even all the way around.
Also, and this is the game changer, she's thinned the bulk right from near the scalp, rather than at the ends, because what's the point of the last inch or so being thinner if all the bulk is still through the sides. Why doesn't anyone think of this?! I now just wake up in the morning with dry hair I've washed the night before (because who has time to blow dry?) and run my straightener over the ends to smooth out any bed-hair kinks. I don't really like the feeling of product in my hair but on a particularly hot or humid day I might go so far as to spritz on some hairspray to hold it in place.
Two cuts in and I've gone even shorter this time, and I think it's for keeps.
Stelios Papas is a great salon, and has reignited my love for my hair so thank you, see you in 6 weeks.
* Note: I paid for my haircut both times so this is not a sponsored post. To book at Stelios Papas call 3371 9011.
Words: Laura Churchill.
About the author: Laura Churchill is a former journalist, Brisbane stylist and fashion event director. Her work is regularly seen across Toowong Village through our personal styling program, social media and events.